Denver Nuggets: Hidden Gems of the Mile High City
Snow-capped mountains, legal marijuana, beautiful views, scenic trails, and friendly people are just a few things that come to mind when you think of the 'Mile High City'. While I wasn't able to engage in all of those activities while there (I didn't bring the right shoes so hiking was a no-go), what I was able to do made me grow even fonder of Colorado and its many wonders.
The Art
Thanks to The Crush, Colorado's week long event dedicated to street art, the streets and alleyways of Denver's River North area were decorated with beautiful paintings and murals from artists from all corners of the globe. Participating artists were not only painted the streets with their magnificent creations, they were also heavily involved with the community. Several small business owners would host and interact with the artist by providing them feedback and services which helped to the capture the true essence of the city. The city's appreciation of art and attitude towards artists added a little extra something special to the area and highlighted the hidden gems that the city has to offer.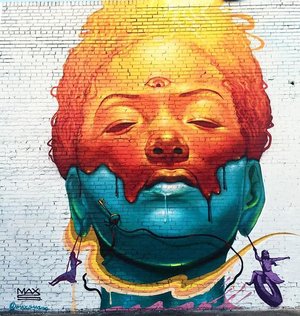 The Adventures
While we explored many places and activities while in Colorado, there are two places and activities that stood out the most. The first was floating. We had the pleasure of meeting with the owners of Samana Float Center to have our first floating experience. The owners, in addition to being friendly and personable (that they gave us a tour of murals and art in the surrounding area), were also very knowledgable and convincing regarding the floating experience.
Floating is the life changing and remarkable experience in which a person floats weightlessly on his or her back in a dense salt water solution at body temperature. It's an energizing, rejuvenating practice that improves health and well-being, alleviates stress, and facilitates meditation and self-improvement. It helps eliminate fatigue and enter the flow state, improves sleep, speeds the body's healing process, improves athletic performance and increases motivation. If that wasn't enough, it also facilitates creative insights, enhances problem-solving abilities, increases focus, expands awareness, and accelerates learning.
Having done it for myself, I can certainly attest to the many benefits of floating being true. I wasn't alone in my experience as a first time CP Traveler uttered some of the same responses about his experience as well. This video below gives you a quick look into what it means to float, and why you should try it.
The next thing we tried was Kava. Our local expert and fellow CP Traveler, Brionna Simons led us to try this unique casual relaxation alternative. We walked into a place which looked like it was taken from a beach front and dropped right in the center of Colorado Springs. Everyone had a very chill and relaxed look on their faces so I knew we were about to have a good time. We get to the bar, and the waitress gave us a quick run down of what Kava was.
Kava is a root found in the Asia pacific Islands. We met a kind gentlemen at the bar who was from Hawaii and told stories of how culturally integrated the use of Kava was to the people of the island. They would use it in ceremonies, community gatherings, fundraisers, and more as a way to start such events and bring the people of the community together. There is a lot of history to the use of Kava, and it was wonderful being able to learn of its cultural and leisure uses.
After trying Kava we were very much more calm and relaxed and it made for the perfect segue into our next delicious meal.
The Food
The food options in Denver were vast and delicious. From the mom and pop stores, to the bustling open area restaurants, bars, and lounges, Denver has something that fits the taste buds of even the pickiest of eaters. The burgers seemingly melted in my mouth while sizzling in my hand. The taco trucks parked conveniently in the populous night life areas were so delicious I devoured six in less than 10 minutes. The vegetarian dishes were flavored to perfection and were some of the freshest tasting dishes I had eaten in my many travels. Denver definitely caught me by surprise with it's food selection and preparation. A true delight.
The People
The people of Denver are as great as the state. They are very relaxed with calm demeanors and have great stories to tell and share with anyone willing to listen. The people of Denver come from everywhere in the world and have created their own authentic local and emotional ties to the city which, in turn, have resulted in its diverse culture. It's a melting pot of people with experiences that contribute to thriving communities and towns all over the state.
A great example of the amazing people of Denver occurred in a bookstore in Colorado Springs. I stumbled in to order some hot tea and have a look around and the owner and I struck up a casual conversation and I mentioned that I had been searching for a novel for more than 15 years and hadn't been able to find it.
He shared with me that he often uses Google image search to help him and others find books that they can't remember the name or author of. We spent a little over a half an hour together typing in keyword after keyword until we finally arrived at the book I had been searching from my childhood. We shared a teary moment and he seemed to be more happy at our discovery than I was. That moment was one that I truly will never forget. This, is one of many great experiences that I had with the people of Colorado.
The Place
Simply observing buildings from the outside in Denver doesn't do the city much justice. The inside of each building and store front, are places filled with enough character and energy to compete with any across the country. "Don't judge a book by its cover, you really have to enter every door to be exposed to and create an authentic Denver experience." said one local resident. Much like the views, the places in Colorado are things that you need to witness and experience up close and personal to truly get the gist of what makes it such an amazing destination to visit in America. If it's not already, Denver, Colorado should most certainly be on your list of places to visit.