Charles Precht: Taiwan and Beyond
Taiwan
I touched down in Taipei, Taiwan on June 1st, 2016. This marked the beginning of my time in the wonderful country that I honestly knew nothing about prior to my time there. As I passed through immigration, I exchanged my Dollars for NTD's and set off to find my ride to TamKang Senior High School. I was immediately greeted by a Taiwanese cab driver and another foreign teacher named Brionna. Everything happened so fast, and the next thing I knew I was in a cab with a person I had only messaged on Facebook that day. There was a slight fear in me that I had been lured out there, and I can say that my mother had this same fear. Verizon decides not to work in foreign countries, and if you want to get a plan through Verizon for abroad it comes at a ridiculous price. So, I was without data, calls, or texts and had just landed in a completely foreign country at 3am local time (3pm for Indiana).
As we rode toward the school, we discussed what brought us to Taiwan, what we have done (or did do) during our time in college, and a plethora of other topics. To say the least, it was a very pleasant ride. I was then moved into my new house, which was conveniently located on campus at the school. I took a quick tour of the campus and then tried my very first meal. Stinky tofu? No. A chicken sandwich with mayonnaise and a sprite all from the 7 Eleven across the street (They are literally everywhere!). Aren't I such an exploratory eater? I received my schedule, and went to sleep in anticipation for the next day!
As I reached the English office, I noticed that there was Wi-Fi there. I asked for the passcode and decided that I would wait until after the first item on my schedule to connect. Upon connecting, I was swamped with tons of messages and missed calls from the texting app I had downloaded for the trip. Uh oh. I forgot about mom. She thought I was dead. Literally dead. I never texted her that I landed. It had been 8 hours. That was just enough time for her to extremely panic, attempt calling my place of employment, and call all of our family and panic. Oh boy, was I scolded for that! After I had assured everyone that I was very much alive, I proceeded with my day. I met my mentor, Garth, met most of the other foreign staff, and observed classrooms all day. I went out for lunch with my bosses, Jackie and Carl. We discussed how Connor (my college roommate) would be arriving the next day.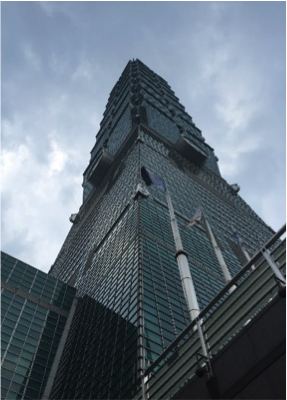 The Sunday of that weekend, I accompanied one of the other foreign teachers (John) on a fieldtrip with some of the students. We went to Pingxi by train and let off a Chinese lantern with all of the kids' wishes written on it. I explored the local area, walked around to a neighboring town and ate at the local shops. I went souvenir hunting, and even tried some ice cream. Let me tell you, they have some weird options for ice cream. But it was fantastic. We also hiked that day so we could see a waterfall, but we didn't go as far as we would've liked because we were a little behind schedule. Connor and I then split off from the group at Taipei main station and checked out this enormous mall underground. There were some kids playing these ridiculously complex music games, we would come back to have our try at them about four weeks later.
The next weekend was action packed! We had a four day weekend due to the dragon boat festival, so I went by myself all the way to Dazhi (about an hour away) so I could go watch some boat races I was told about. They were pretty awesome! However, I made the mistake of seeing Taipei 101 (a skyscraper) from this city. I believed that I could walk there in less than twenty minutes, having no sense of how far away it truly was. Two and a half hours of walking later, I had finally reached it! I happened to misjudge and take a route that placed me on a very busy interstate. With no phone service, I tried to wave down taxis not knowing they wouldn't stop due to the festival and how busy the streets were. Regardless, I still made it to this amazing structure and saw Taipei from an amazing point of view. The next few weeks I would take many adventures, and learn a lot about what it means to be a teacher as I taught four of my own classes in preparation for being a full-blown teacher later in the summer.
Thailand
I had been advised by Carl and Patrick, two other foreign staff members and one of which being my supervisor, to visit Thailand. Seeing how they own their own travel agency (*cough cough* CP Travels), I decided that I'd try it out. They guided me to pick going to a hostel, which was crazy because I would've never made this decision on my own! A hostel is dorm style living with about nine other individuals that you do not know. Plane tickets as well as the hostel itself were extremely cheap, so I decided that I would take the risk and travel on my own (with Connor lol).
Leaving for Thailand, was to say the least, stressful. Connor and I left early so that we could watch Finding Dory. However, I decided that since I was going to take the High Speed Rail (HSR), which I had never done before, I should skip on the movie and get to the airport early. I left at 10:50 am from the main station. Knowing that it would only take 15 minutes to get to the airport station, I should've arrived before 11:30 to take a taxi to the actual airport. I boarded the train, took my seat, and waited for my stop. I watched patiently as the stops rolled by. I saw the one before my stop pop up on the screen, so I knew I was close. I prepared to depart for the next stop, but something weird happened. 10 minutes passed, 20 minutes passed, 45 minutes passed. The train didn't stop. After an hour and a half, I decided to ask if I was even on the right train. To my horror, I had boarded the train that goes express to the bottom of the island. We arrived there at 1:30. By taxi, it would take four hours to get to the airport, so I knew my only chance to catch my 3:55 flight was to take the train back.
With no cell service, I had no way of telling Connor I may miss our flight. They told me that we would reach the airport station at 3:18, and that there was no way I would make my flight. I decided to be stubborn and try anyway. I reached the station at 3:18, ran upstairs to exit, found a taxi, jumped in and asked them to rush to the airport. I reached the service booth at 3:40, and after sincere pleading, they barely let me through. I made it to the terminal at 3:54, and thanks to a flight delay, boarded my flight on time.
First, the hostel that Carl and Patrick recommended was great ( lubd )! I had amazing roommates and there was such an exemplary staff. They helped me plan my whole trip, and I was able to pay for everything I did through them. I took a Thai cooking class; a temple, grand palace, and riverboat tour; a tour of all of the hospital museums in Bangkok (kind of creepy), and had VIP seating for a Muay Thai Boxing match.
The Thai cooking class was really fun, although I wasn't really expecting that we would be the only guys taking it! We cooked and prepared four meals, and they were very delicious. Thai cuisine is fantastic, and cooking it myself was not only very rewarding, but as someone with no cooking experience, it was extremely interesting and educational. We made spring rolls, mango sticky rice, green curry, and pathai.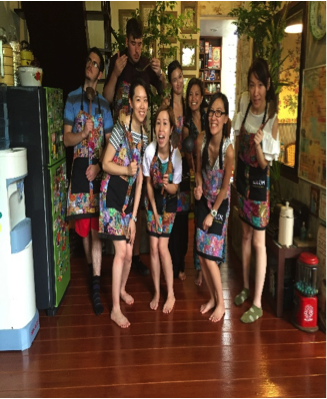 The tour was very long and exhausting, but I saw so much of Bangkok and learned a lot about Thai culture, Buddhism, Hinduism, and the King. We went to some great markets, which is extremely interesting because where I live, the closest thing to a fresh food market is Walmart. The tour guide was extremely hilarious and very informative. He was able to answer all of our questions and there was barely any language barriers.
The tour of creepy Bangkok was very interesting, especially considering I'm a double major in Biochemistry and Cell Molecular Biology, seeing all of these medical facilities and their use of donated individuals was extremely intriguing. I warn, however, this is not for the faint at heart. It was very educational, and the tour guide was very interesting and hilarious! This tour did not allow for photography out of respect for the dead, however, it has left a permanent impression on how medical practices are carried out in Bangkok.
Lastly, I thoroughly enjoyed watching the Muay Thai boxing matches. I had VIP seating in the front row by the ring. There were nine consecutive matches. Also not for the faint of heart, I watched 5 out of 9 of the matches end in a brutal knockout and most of them involved gratuitous amounts of blood. A great way to spend an evening, as well as an interesting activity I had never attended before!
Leaving Bangkok, I had found an amazingly cheap flight to a country I had always dreamed of visiting. Wanting to mix things up a bit, I decided to travel 'down under' to the great country of Australia.
Australia
First, the flight was long! Australia is massive and mostly desert. Second, my hostel was amazing! There were so many people around my age and just a great, supportive tourist environment to be in. Third, it was cold! Coming from places where the humidity was ridiculous and the temperature was 90-100 degrees like Taiwan, I thoroughly enjoyed experiencing 40-60 degree weather. However, I was not prepared when it came to packing for the weather. I decided that I could tough it out!
The next day, I took a walking tour of all the main areas in Sydney. The royal botanical gardens, the main park, the Sydney Opera house, some restaurants, etc. It was fantastic. It was also more than a ten mile tour. I then decided that after the tour I wanted to go back to the opera house to purchase tickets for one of the performances during my time there. I got really amazing seats! I let out my inner nerd for a little bit and captured some Pokémon on the Opera House Wi-Fi. In total that day I walked more than 17 miles around Sydney.
I had planned the rest of my week through the hostel, and they were very helpful and also let me pay for everything through them! I scheduled a Blue Mountain tour and skydiving as well as found a few things for free that I wanted to do! The Blue Mountains were very beautiful, and were actually blue! The eucalyptus leaf oil seeps off the leaves and coats the sky in a very beautiful blue hue. It was a very interesting and fun tour, and I learned a ton about Australian government while talking to some of the other tourists. Lunch was provided, so that was a nice perk!
The next thing I did was see the Opera House performance. It was both hilarious, and very sad at some major points. The performance was two dancers as well as a radio host comedian, and their whole gimmick was how their show wasn't something anyone wanted to see because the two didn't belong together. The house was packed and it was beautiful inside. I was in the main concert hall only a few rows back on the ground floor.
Skydiving was insane! Over nine miles up and reaching speeds of 150 miles per hour is unbelievable, and seeing Australia's ocean and mountains from such a beautiful vantage point is very amazing.
Lastly, I went to the Australia Zoo, home of Steve Irwin. This had very special significance to me because my family and I had adored and continue to admire Steve Irwin and what he meant to us. It had always been a dream of ours to go visit his zoo, and the fact that I was doing it was a great feat for me. It was honestly unlike any other zoo I've been to before. It had a different vibe to it, and you could tell these people truly cared about the animals they were working with and had a deep devotion to conservation. They had a memorial set up for Steve, and learning about his work in more detail was truly inspiring. However, this zoo was not in Sydney, it was in Beerwah. I bought tickets to fly out at six in the morning, arrive in Brisbane at 7:30, and then take two hours of trains and a shuttle bus to arrive at the zoo. Then, my return flight was at 9:00 pm the same day. It was exhausting and to some, a very crazy decision. However, I do not regret it, and I can happily say I accomplished a dream while in Australia. Next time I visit Australia, I really want to stay in rural Brisbane or travel around to the more rural areas of Sydney so that I can see more wildlife!
I ended my Australian journey with accidentally happening upon a famous photography company while in the park. I sat down to feed a bird a cracker, and next thing I knew, a giant group of birds began swarming me and landing on me! The photographer loved it. He stopped, got out his camera, took a bunch of photos and then submitted them through their site. I am now officially a part of their "hottest day of winter" album collection! An amazing ending to an amazing journey.
Conclusion
When I returned to Taiwan, I began teaching my own classes by myself. This was by far both amazing as well as extremely difficult and energy draining. Every day after work for the next two weeks I went immediately to sleep and didn't wake up until five hours later. I taught nine of my own classes per week, for a total of thirteen in-class hours each week that I had to prepare for. I created the lesson plan, the goals, and the assignments that I would be using each class. I guided students and was able to develop strong personal bonds with each of them. I finally found my personal niche and where I could develop them and watch them grow, and yet I write this article as I reflect back on my time with them and am saddened as well as deeply appreciative of my time with them.
Being a teacher is amazing, traveling is fantastic, and I have grown in so many ways and seen so many amazing places that people twice my age have never had the opportunity to see. I am thankful for this amazing opportunity, and extremely grateful to TamKang and to DePauw for making this experience a possibility for me. If you desire this opportunity, seek me out! I can discuss with you about how you can become a part of the TamKang family!
Photos by: Charles Precht and M.X.Y.