EuroTrip in Italy: Circus Maximus, Gelato, and the Colosseum
Watching the movie EuroTrip as a youngin' didn't really leave me with a desire to want to venture to that part of the world. When my friend Brad presented our Taiwan squad with the opportunity to experience a EuroTrip of our own I was down for it, of course, but my only frame of reference for what the experience would resemble was the movie EuroTrip. For better or for worse, I was excited.
Five of us set out to spend six weeks backpacking through Europe. Our route was as follows: Rome, Madrid, Marrakech, Barcelona, Lisbon, Paris, and Amsterdam. The whole trip would lead to an epic ending in London, England for the 2012 Olympic games. As it was our first time backpacking for an extended period of time, we were excited but weren't really sure of what to expect. What we did know was that with the combination of people we had it was certainly going to be a good time.
The day we set to leave, Brad and I were on time, per usual, while Lisa, Patrick, and Jackie were which nearly caused us to miss our flight from Taiwan to Beijing. Hustling and bustling to make the flight we were able to reach the counter about 20 minutes before it closed.
We learned a very important lesson when going through the check-in line in for Beijing.
Ask and you shall receive.
We went up to the counter and simply asked "Is there any way that we can be upgraded to first class?" She hesitated for a bit and fiddled with her computer before telling us, "sure." We held back our turn up dances until after we actually got the tickets, but we Money Mike power walked down the hall and into the first class boarding line once she handed them over.
It was the first time any of us had been in first class. Before we were able to sit down the attendants had prepared and given us little glasses of orange juice, wine, and fresh cucumber water fresh from the lakes of New Zealand (wild guess). The beginning of the EuroTrip was already off to a good start, and we hadn't even left the runway.
Once we landed in Italy it was breathtaking to say the least. The architecture is amazing, the air had a cleansing feel to it, and since it was a little after 1pm there were barely any people on the street. We found out later it was due to it being siesta time, known as riposo in Italy. Most things shut down and people take long lunches and sometimes an afternoon snooze to recharge themselves for the remainder of the day. Some go from noon until two, while others go from a little after one until four.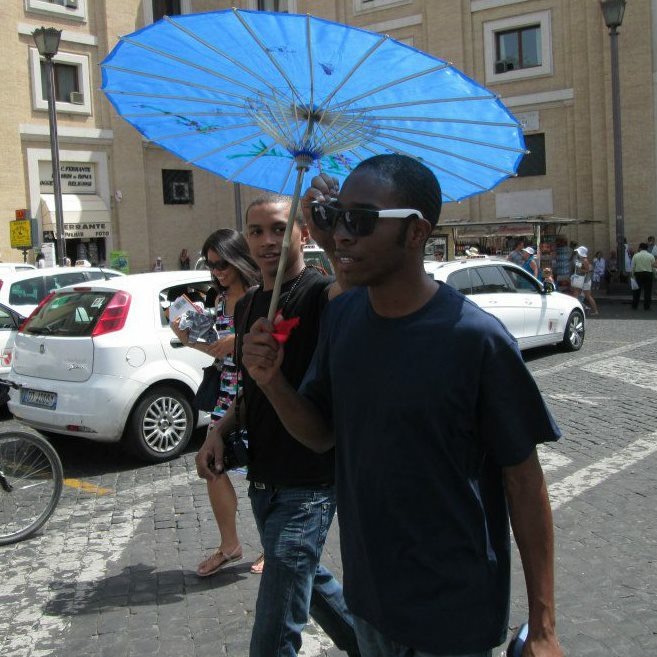 After checking into our comic book themed hostel, and having an absinthe shot or two to commemorate finally being in Europe, we set out to hit the town. We quickly discovered that authentic Italian food heavily featured dairy products, and being that I'm lactose intolerant, there weren't many things I dared to eat. Since cheese seemed to be a main ingredient in most dishes at the restaurants we found, I filled up on the delicious bread and $5 dollar wine.
Seemingly right after we stepped foot off of the plane Patrick kept talking about how he wanted to go to the Colosseum. Of course it was on our itinerary and we would eventually go, but he just wouldn't stop talking about. Fortunately enough we met some pretty cool people along the way to distract him.
We also joined one of the best bar crawls I'd ever been a part of and engaged in an intense push up and beer pong competition with Jackie and Brad. They had a big lead. 1 cup to our 7 cups. In epic fashion, 7 buckets and 70 push ups later, the champs (Patrick and Carl) walked away with the W. We're probably the best beer pong players ever to grace the earth.
The bar crawl led us down some sketchy alley ways and along a waterfront to a dock where a very lively outdoor party was taking place. What started with dinner outdoors with five dollar wine, led to competitive beer pong with a fitness initiative, and ended with an outdoor party in a canal. It was one heck of a night to say the least and it became even more epic once we lost Patrick.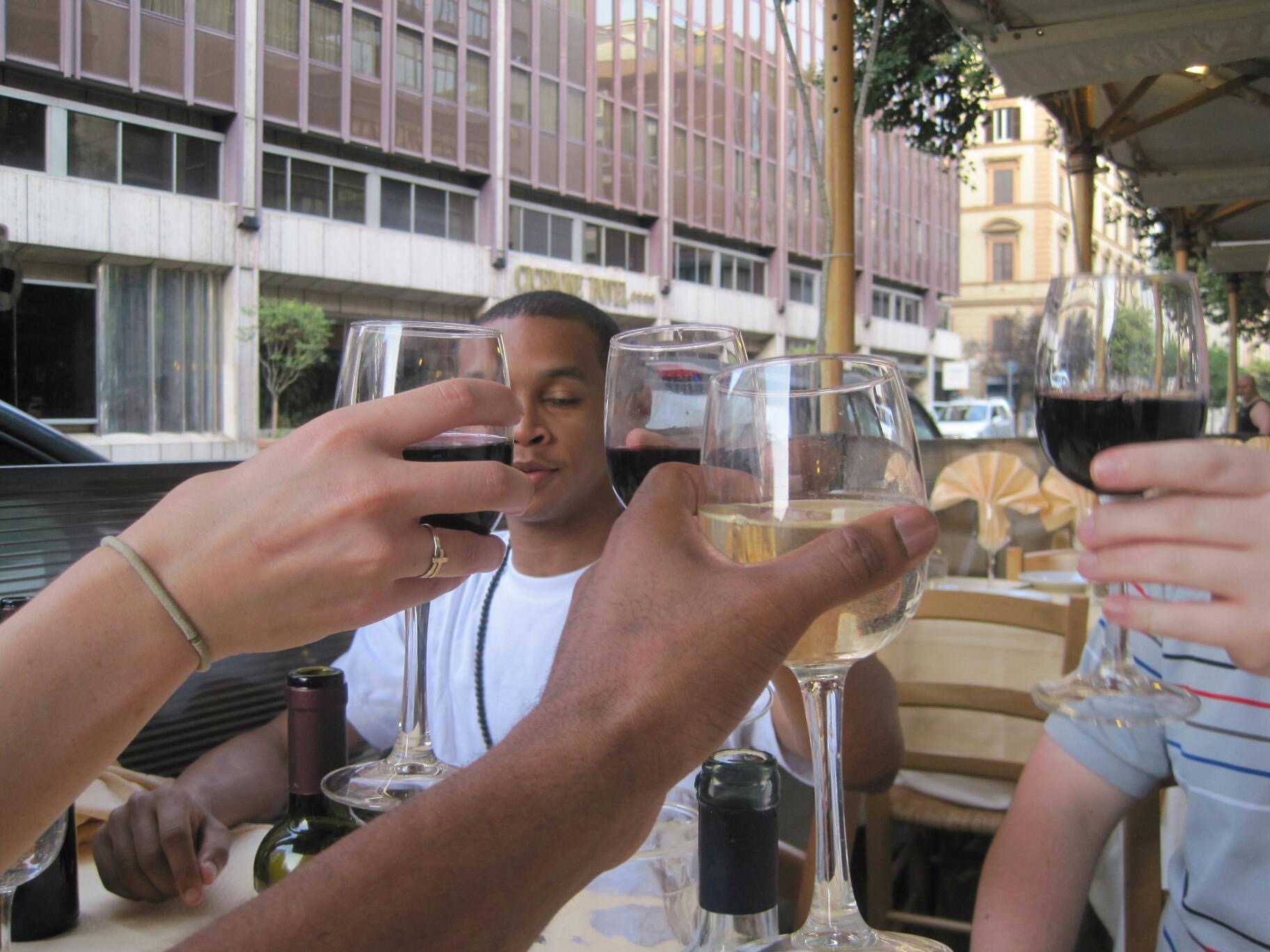 He spent the better part of our trek back to our hostel complaining, "All I wanted to do was go to the Colosseum." No matter how many times we tried to tell him that it's closed at night and there was no way of getting in, he was hell-bent on making it there. After the twelfth time he brought it up, I ignored him and started taking in the night time scenery of Italy. I made the mistake of looking away for one second and Patrick had disappeared.
Now of course we're all thinking, "Did this fool really up and try to go to the Colosseum?" Brad brings it to our attention that he is at least a smooth hour and a half away from the actual structure, and he was one of the two people who didn't have a key to the hostel. After spending two minutes looking for him everyone turned and looked at me as if to say, "What we gonna do?" To which I replied, "He's a grown ass man. He'll be aight, let's go home."
No worries folks, he made it home. Much, much later that night. We all, including him, had no idea whatsoever how the hell he made it into our building let alone our room. There was a steel gate and another door that required a key just to enter the building, and no one remembered waking u to open the door for him. But as fate would have it, I woke up to the sweet lullaby of him snoring ever so intensely in the top bunk in our room. Moral of the story is, he'll be aight, he'll always be aight.
As exhilarating as the nights are, we're always sure to make the most of our days. We visited one of the smallest country in the world, Vatican City. Jackie and Brad attended mass, while Patrick and I paid for and sent $9 postcards to one random friend each. We went to see the Colosseum during the day, and it was immaculate to say the least. Even with the very warm temperatures it's the kind of place you can walk around all day while really attempting to get a feel of how life was so very many years ago. This was probably the happiest part of the trip for Patrick.
We walked around and explored the beautiful scenery of local neighborhoods, ate more than our fair share of gelato, and saw as many of the iconic tourist destinations that Italy had to offer. We also had the opportunity to see a live football (soccer) game in Circus Maximus. As luck would have it, it was the intense Euro-cup rivalry game between Spain and Italy. We packed the open field and observed the game with thousands of people as we cheered in unison for Italy. Although they lost in the end, the energy felt in the moments we united with all those people in the spirit of competition, was unlike anything else I'd ever experienced.
We left Italy beyond satisfied and eager to explore our next country, Spain. We were also much more careful with money because we somehow managed to spend $2,000 in five days. Now we're much smarter. Much much smarter.
To be continued......